Portable Toilet Rental in Arkansas City, KS
Patton Septic Tank Service provides property owners throughout Arkansas City, KS with portable potties and septic pumping services. We specialize in renting portable toilets for everything from job sites to events, and more. With decades of experience and a dedication to providing services quickly and thoroughly, porta potty rentals are just a call away with us! Contact us today to schedule an appointment.
We're #1 When it Comes to Hauling #2!
Whether you're managing a construction site, an event planner organizing everything for the perfect outdoor wedding, there's one thing you can't forget – where are all those people going to ehem, do their business when they need a bathroom? If you're looking for a company to help you with all your portable toilet rental needs in Arkansas City, KS, look no further than Patton Septic Tank Service.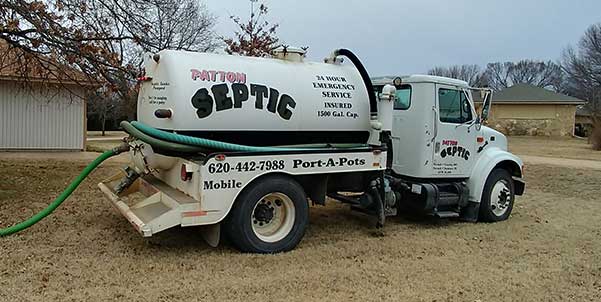 We're a licensed septic hauler in Arkansas City, KS, ready to provide portable potty rental, pump your septic tank, haul away waste and leave you with peace of mind. We don't waste time with plumbing or other services. That's how we can focus on providing you with the best in portable toilet rentals and septic tank services. In addition to our superior porta potty services, we deliver complete pumping and waste haulage services, specific to your tank's capacity and your septic usage.
We don't waste time when it comes to delivering superior service. Call us for service, and we'll be there within the hour
We've got nearly 35 years of experience and a longstanding reputation for going above and beyond to ensure satisfaction
We're affiliated with our local Chamber of Commerce and take pride in supporting our active local business community
We're happy to offer you a free estimate on portable toilet rental, as well as our septic tank services
Looking for a waste control solution beyond a septic system? We've got portable toilet rentals available to you! No matter how many you need or how long you need them for, rely on us to provide clean, well-kept, frequently-serviced portable toilets.
Beyond renting portable bathrooms for business and residential customers, we also provide full-service septic services including pumping, cleaning and waste hauling, and new septic tank systems. If your tank needs replacing, we're the team to do it. We're able to install new tanks for residential and commercial properties, working hard to set things up right, the first time.
Contact us today and see why area customers know us as the number one septic hauler!
Providing septic tank installations and portable toilet rentals to the following areas:
Akron, KS
Argonia, KS
Arkansas City, KS
Caldwell, KS
Cowley County, KS
Dexter, KS
Elk County, KS
Mayfield, KS
Milton, KS
Riverdale, KS
South Haven, KS
Sumner County, KS
Wellington, KS
Winfield, KS
Call for Septic Service
Time to have your tank pumped? Need an estimate on a new septic system installation? Contact Patton Septic Tank Service today and see why we're the area's leading septic services provider